About the MV Kawau Isle

Kawau Isle is a traditional kauri timber motor vessel built in 1958 by Roy Lidgard at Smelt House Bay, Bon Accord Harbour, Kawau Island for the then owners of the famous Mansion House. She is 45 feet in length, powered with a 6LW Gardner diesel engine and cruises at 7.5 knots.
For around 30 years the Kawau Isle operated a ferry service between Sandspit and Kawau Island. More recently she worked from Half Moon Bay as a charter boat and then Whangarei as a school ferry.
Meet Cath Meehan and Paul Meyer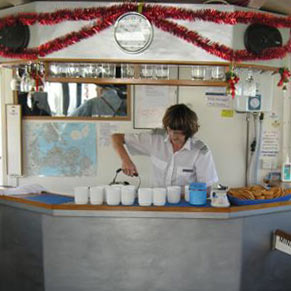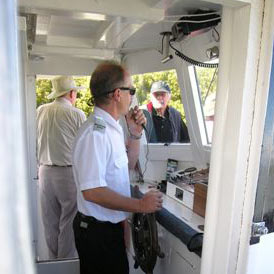 Cath and Paul, the Riverhead Ferry owner/operators, bring many years of boating and catering experience to this operation to make your cruise a smooth and unforgettable occasion.
Paul brings a lifetime of boating experience, extensive maritime knowledge and a love of New Zealand history to his role as skipper. Paul's researched and knowledgeable commentary adds to the enjoyment of your voyage.
Cath brings organisational skills and considerable experience in the hospitality and service industry to her role as charter organiser and catering manager. Her well run galley and bar ensure your comfort.
Cath and Paul combine their skills with frequent training to ensure safety standards are met and all safety equipment is ready and useable if required. Kawau Isle been assessed by Maritime New Zealand to have a Priority 0 risk level and a Safety Profile Assessment Number of 19.93 (highest risk Span 100).
to view a slide show just click any of the images below...