Party Boat Cruise
We have private boats to hire in Auckland so you can celebrate any occasion surrounded by Auckland's beautiful Hauraki Gulf! Bring your friends and family, your own catering free of charge, and make the Riverhead Ferry your party venue. With a bar onboard, a Weber BBQ, indoor and outdoor areas, plus ports to plug your own music, you'll deliver a party your group or work team won't ever forget!
Best for
Birthdays, hens or stag do, weddings, work parties, engagement, Christmas parties, social club outings, or team building days.
Time & Schedule
3 hours cruising Auckland's Waitemata harbour. If the date and time you are wanting is not showing, please get in touch with us and we can see if it's available.

Drop off & Pickup
Your pick-up location is Z Pier, Westhaven Marina. For any other pick-up locations please get in touch with us at the time of booking to enquire. Find out how to get to us here.
Price
We offer the best value for money in Auckland. Prices depend on numbers and range from $1,350 — $1,750. Weekday specials also on offer!
Amenities
Licensed bar, flushing toilet (and private bathroom), eftpos, AUX sound system, indoor and outdoor seating, dance floor, and transportable Weber BBQ for grilling on the deck!
Boat capacity
The Riverhead Ferry can comfortably fit up to 49 passengers, but we take a maximum of 30 people. Please get in touch if you have more than this.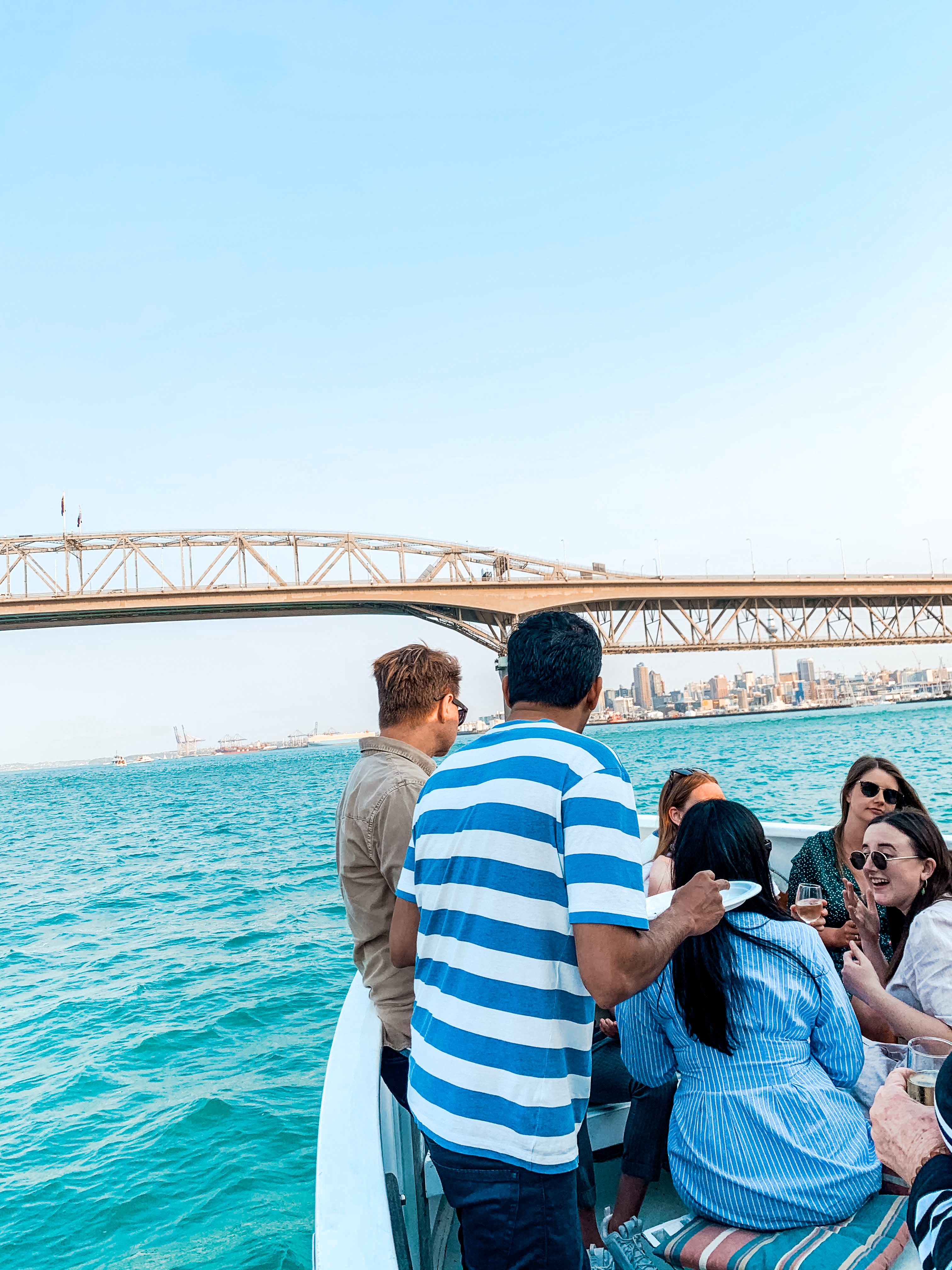 Private Boat to Hire in Auckland
A party boat cruise in Auckland is a perfect way to celebrate with friends and family while admiring the city from a different perspective. Play your own music, cook your lunch or dinner on our Weber BBQ, buy drinks at our bar, and enjoy the views while you dance the night or day away. Leave the city behind and book your private boat in Auckland for a memorable party boat cruise with the Riverhead Ferry!
BOOK ONLINE NOW
What you'll see
We will cruise at a leisurely pace through Auckland's Hauraki Gulf. What you'll see will depend on safe water and wind direction, but we usually cruise right under the Harbour Bridge towards the Riverhead past Herald Island, Greenhithe Bridge, the Chelsea Sugar Factory, and into some of the harbour's most beautiful and sheltered waters. The other option is to cruise towards the islands of the Hauraki Gulf, past Rangitoto island and Bean Rock Lighthouse. If you choose an evening party cruise, the sunsets and the city lights are incredible!
Food & Drink
Enjoy the range of alcoholic and non-alcoholic beverages from our licensed bar, as well as bar snacks available for purchase. Self-catering for food required. We recommend the Cater Station, or bring your own food to grill on our Weber BBQ. BYO food is free of charge. Eftpos available!
Onboard the ferry
Play your own music using our AUX sound system, while you enjoy the beautiful harbour scenery. You'll have access to seating in the back and front of the boat, with comfortable indoor couches available to relax too. Your safety is important to us so please follow the safety guidelines our skipper outlines at the beginning of your charter.
Refunds & Cancellations
All our cruises are designed with your safety and comfort in mind. In the event of bad weather, we may have to cancel the charter in the interests of your safety. If we need to cancel your trip due to bad weather we will re-schedule, or offer a full refund. When booking, a non-refundable 30% deposit is required. This will be refunded if the date you have chosen is unavailable. Full payment is due 14 days before the charter date (28 days in December for Christmas Party Cruises) or paid in full if booking 14 days before the client's chosen date. Once full payment has been made you will not be refunded if you cancel the charter. If the client needs to cancel the charter due to unforeseen circumstances we can reschedule the charter to an alternative date. In the event of another lockdown or for any questions around vaccination policies, please refer to our COVID-19 policy.
Terms & Conditions
To ensure the safety of our guests, if anyone turns up intoxicated and is not fit for travel, the intoxicated guests will be left behind, or the charter will be cancelled with no refund. If while you are on board and anyone participates in inappropriate or disorderly behaviour, the charter will be cancelled and we will return back to the marina. BYO alcohol is not permitted on the boat as we have a licensed bar onboard. If you bring your own alcohol onto Riverhead Ferry we will have to cancel the charter with no refund. No drugs or illicit substances are permitted on board any of our charters. However, we do love to have a good time, so make sure you dance and drink the day or night away!

"Never expected such an awesome day out when booking! Went out on Riverhead Ferry on Saturday to watch the America's Cup racing. Holger and his crew certainly know their stuff. We were positioned on the finish line - and in the front row. What a bonus. Holger was a book of knowledge which he was very happy to share with us. The boat was not overbooked and had covering out of the sun. Wonderful memories."

Totally Memorable

Heather H

"Went out yesterday (our second trip) with Holger and Hannah to watch the Prada Cup racing. Once again fantastic and friendly; an entertaining day out. They both go out of their way to ensure you are well looked after. I have also been on the Riverhead pub trip and again have nothing but praise for these guys. Highly recommend this trip and these great people. They really add something special to a great day out, 10/10."

Fantastic

Keith W

"

The communication from Riverhead Ferry was excellent - confirming booking and keeping us up to date. We were greeted by the Captain who is a very friendly, very knowledgeable and very capable driver. He went around all his passengers making sure we were all happy. Other boats can be so crowded with no shelter - Riverhead Ferry offered inside and outside seating with shelter from the sun. 5 STARS – Thank you for a very memorable day.

"

Fantastic, Friendly, and Extremely Enjoyable

Lisa

"

If you're looking for a well priced day out on the water you can't go past Captain Holger and the team at Riverhead Ferry. Our trip out for the final America's Cup race was very last minute but exceeded expectations in all areas – the friendly service is second to none and Captain Holger made the day an even bigger treat with his humour and skill at getting us the perfect spectator spot. Great for a team event, we can't wait to go again!

"

Simply Exceptional

Hilary Jenkins
Other cruises you'll like